Junior Squash Sessions: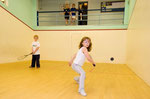 Are you aged 8 to 19 years of age (or do you have children who are)?
Do you (or they) want to learn to play squash with a group of like-minded juniors?
Why not enroll in our Junior Squash sessions, held every Friday:
5.00pm to 6.00pm (all levels)
Sessions are conducted by an N.C.A.S. accredited squash coach (with Working With Children clearance)
Cost is from $8 for the session
Racquets and balls are provided
Held at Striker Indoor Sports and Fitness (formerly Leeming Sports & Recreation Centre)?  Please click here for further details and directions.
Please contact me, or simply turn up, on any Friday, to join our group of junior squash players!
Please note that Junior Squash Sessions are not currently being run
Please click here to contact me about our Junior Squash sessions.